Happy New Year!
In light of New Year's Eve being the 5th year anniversary of the rescue of Jack Daniels  (the REAL boss at Black Dog Logistics)  I wanted to share a little bit about him with you.
We will continue to support the mission of rescuing puppy mill dogs in anyway we can and hope for the day that these puppy mills no longer exist!
Jack Daniels, a sad story with a happy ending!
On February 13 2017 we will have had the pleasure of Jack's company for five wonderful years!  He has come so very far from his horrible beginning in a puppy mill cage in PA.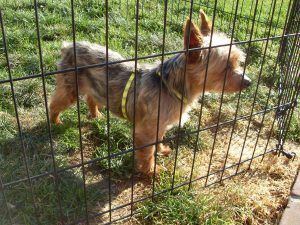 We found him on line while traveling in FL in Jan 2012.    His sad picture and knowing he was at least seven years old (most people want the younger dogs) sealed his fate- we knew he was the one we wanted to adopt.  After years of black labs and beagles (whom we loved dearly) we were ready to get a small rescue dog.
After completing the application process, I drove up to Ephrata PA on February 13 2012.   Jack Daniels was among seven other small dogs that his Foster Mom, Rhonda was taking care of.   He kept his face down and eyes on the floor as he puttered around her kitchen.  His coat was dry and dull, and he didn't make a sound.  Finally I was able to scoop him up and hold him- he didn't know what to think.   I sat in Rhonda's kitchen for an hour, letting him get to know me in the
only comfortable environment he knew.  Finally we left to go back to Stevensville MD, and his new home. Rhonda took our picture and we were on our way!
Jack Daniels was named that because he was rescued with many other dogs from a horrible puppy mill in PA on New Year's Eve 2011/12.   He had to have 11 rotted teeth pulled, his back legs were badly damaged and he was terrified.  His hair was so badly matted they couldn't even tell if he was male or female, and initially named him Tanqueray, thinking he was female.   I cannot even imagine how absolutely sad and scary his life had been.  People forget that while many puppies are born in these horrible conditions, the poor breeder dogs are there for years and years, many never leaving the cage at all.
For the first two weeks , we kept Jack's leash on him all the time, in case he ran out the door.  We were told that if he were to get lose he would most likely run away and keep running until he met with probable danger or death.  For the first few days, he paced around the house with his head down…slowly, he started to bond with me.  Within two weeks he wouldn't let me out of his sight!  He slept with us in bed, and he napped on my lap most of the day in my office.  Many of my customers got to meet Jack Daniels in the first month or so, as I just couldn't bear to leave him in the house by himself, and he wouldn't let Steve (my husband) come near him.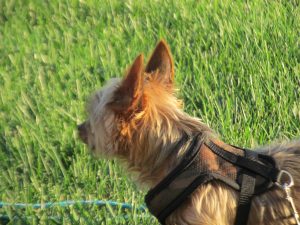 The honor of watching Jack experience each new moment in the real world was a gift indeed.   The sunshine was and still remains his favorite thing.   The first few times that he felt a breeze blow, he stopped and totally immersed himself in it.  He continues to do that today, but now he will look up at us, as if to share how wonderful he thinks it is.
By April, we were so attached to him that it seemed like we had always had him.  He was getting acclimated to his new surroundings and no longer paced the house. He enjoyed sitting out in the back yard looking at the water and the flames from the fire pit at night.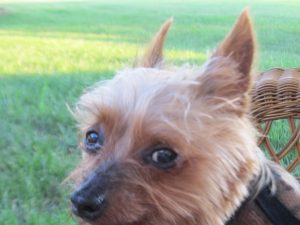 Although he is only 7 lbs and has only 3-4 teeth, Jack Daniels is not afraid of any big dogs!  He went after Rocko, a very big german shepherd who lives across the street, when he felt threatened by him!
We took Jack everywhere with us the first two years, even on the Harley!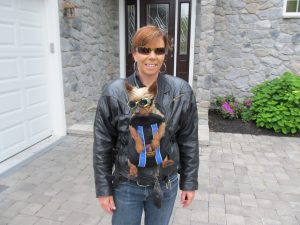 He frequented the Jetty in Kent Narrows pretty often!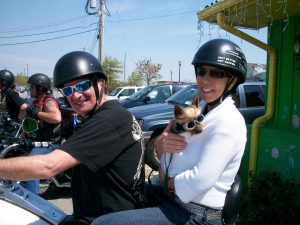 In August we brought him to bike week in Ocean City.  He wasn't that impressed with the ocean or the beach but he always loves being with us.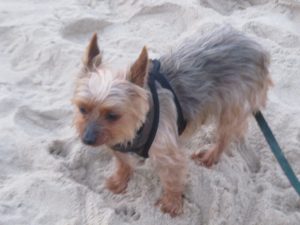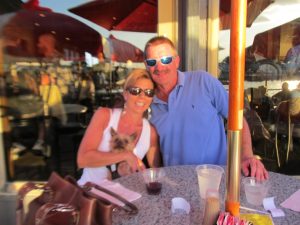 After tooling around with us all day, he would be pretty tired!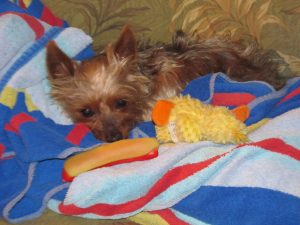 Jack also spent time in Cape May NJ his first summer with us.  He is a great traveler, and he liked the Cape May Ferry rides!
He has favorite places to go, like the cluster of weeping willows where he likes to chase the squirrels. He also made friends in the neighborhood with many four legged creatures, Hannah, another Yorkie down the street being his favorite!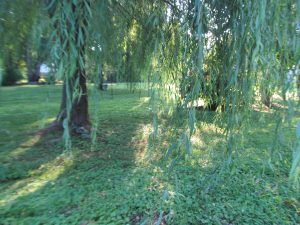 When fall arrived, we introduced Jack to football!  Of course he had to choose between the Eagles or the Redskins!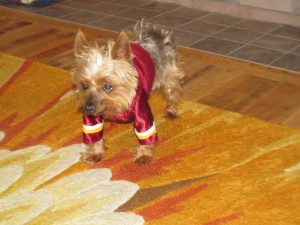 Little did he know, but after the many years of bitter cold winters in the outside barn cage where he had lived his whole life, Jack was never again going to be exposed to the cold.
In December 2012, we loaded up the Harley and took Jack with us to the gulf coast of FL!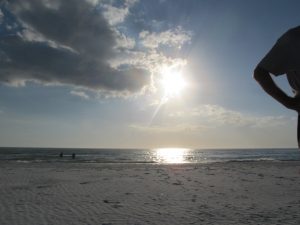 Jack is a good traveler, any opportunity to lay in my lap all day while we are driving is great for him!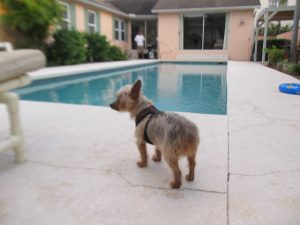 He rode the Harley with us all over southwest Florida,  and attended the Thunder on the Bay at Sarasota!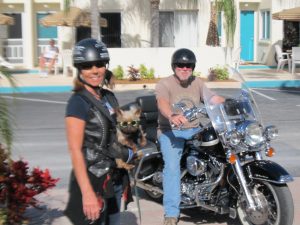 ( Jack and I with Harry, rip)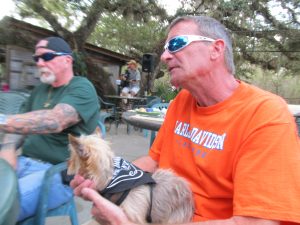 (Jack with Steve and Uncle Rob at the Castle)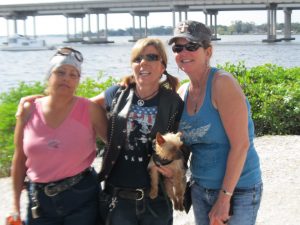 (Jack and I with Aunt Carole, and Juju at Woody's Rue)
Jack has traveled extensively since becoming a member of our family!  He has been to FL many times, Cape May three times, Knoxville TN, Austin TX and other trips.  He is such a blessing to us!  We cherish every day we have left with this precious soul.
Today five years ago, volunteers rescued him and many other terrified dogs from their horrible fate at the puppy mill.  We thank all of the volunteers all across the world who continue to  save these poor neglected animals.
Jack has now been living the life he's deserved for five years.  This has been a humbling experience and we both feel honored to offer him a better life.
HAPPY NEW YEAR!
Cindie and Steve